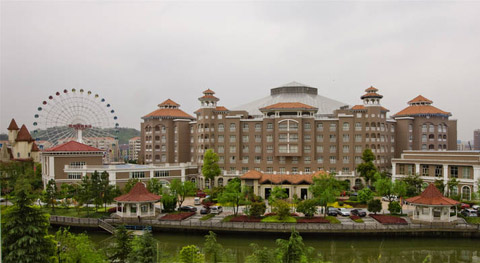 The First World Hotel (Hangzhou Diyi Shijie Dajiudian) is located in the 2006 Hangzhou World Leisure Expo Garden, and features great views of Hangzhou Amusement Park and Xiang Lake.
Different types of guest rooms are designed to meet different guests' needs, including superior rooms, deluxe rooms, administrative rooms, exotic suites, administrative suites and presidential suites. Guests overlooking the inner side of the hotel can enjoy the rainforest-themed atrium.
This Hangzhou hotel's Chinese restaurant serves Cantonese, Sichuan, Guangdong, Hangzhou and Western cuisines. Guests can choose to dine in one of the 27 private dining rooms of different sizes or in the banquet hall which houses up to 16 tables.
This Hangzhou hotel specializes in undertaking large-scale domestic and international conferences and offers 21 variously sized meeting rooms that can accommodate 30 to 3,500 people. The hotel itself can hold 6,000 people at the same time and has 3,000 parking places. The large parking lots are good places for motor exhibitions and test-driving. Meeting experts will offer professional services to track the whole conference and help design different meeting themes to match your requirements.
When it comes time to unwind, guests can use The First World Sauna Center which has a pool and a steamy sauna. If socializing is what guests are looking for they chat over a book in the elegant book bar. Guests who want to sing can take the stage in one of the KTV rooms equipped with advanced audio equipment creating first-class audio-visual effects.
Those accompanied by children can take them to the children's play area where they can play with toys and books.